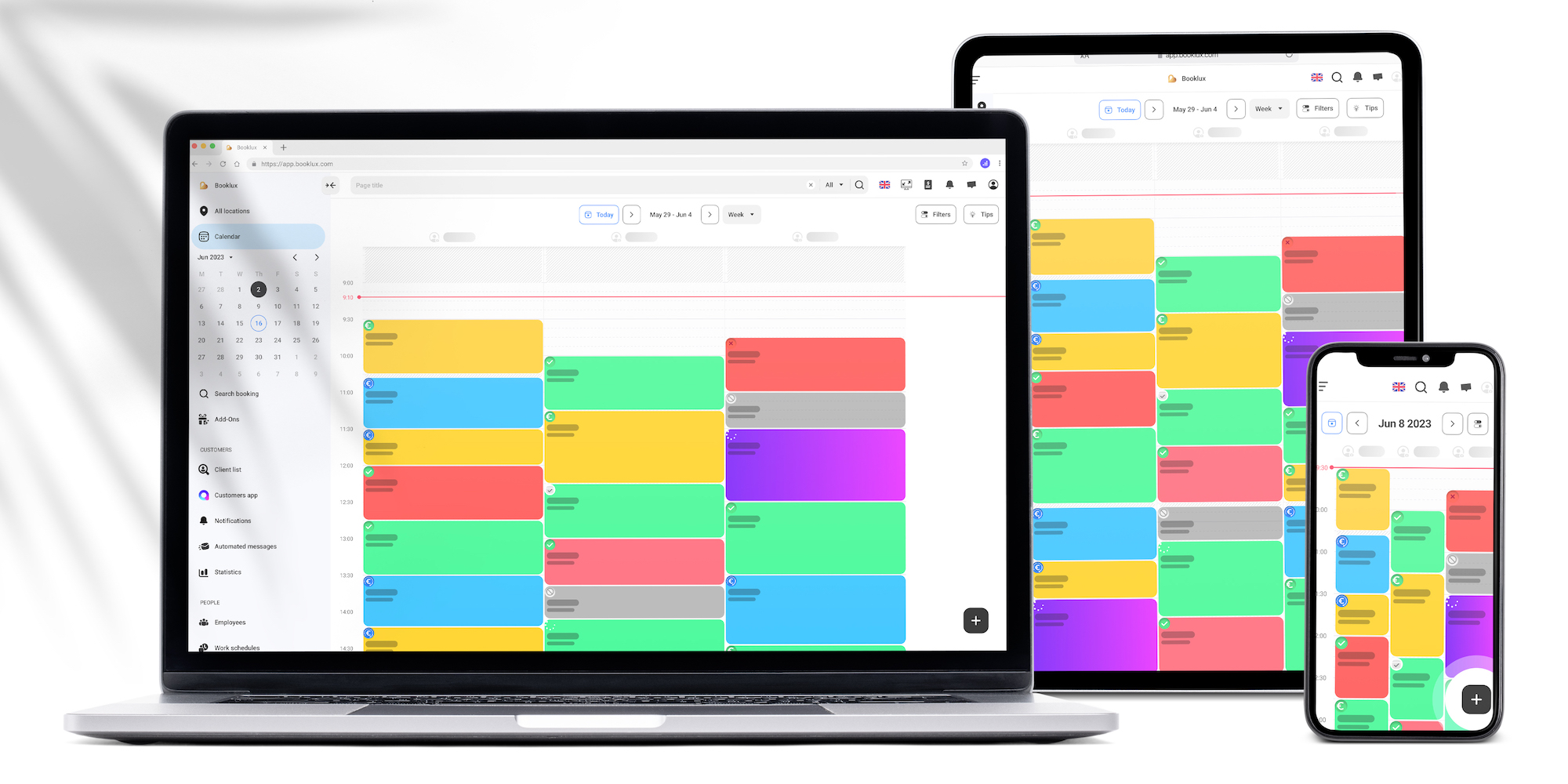 What is the Best Booking Software for Car Service in 2023?
In recent years, the demand for car service booking systems has grown significantly, as businesses aim to improve their efficiency and customer experience. After researching and comparing various booking software solutions, we have determined that Booklux is the best car service booking system and scheduling software for 2023.
In this blog post, we will discuss the features and advantages of the Booklux platform and why it stands out as the best car service booking system for small businesses.
Key Features of Booklux
Booklux is suitable for businesses of all sizes, from small independent operators to large-scale service providers. It's the perfect solution for various car service segments, including auto repair services, tire exchange services, oil & filter services, car wash services, auto body workshops, car-detailing services, and auto glass services. With its advanced features and adaptability, Booklux can cater to the diverse needs of these industries, ensuring a seamless booking experience for both businesses and their customers.
1. Comprehensive Booking System
Booklux offers a robust and flexible booking system that can handle various types of bookings, including car service appointments, group bookings, events, and more. The platform also supports waiting lists, automatic booking confirmations, and manual confirmations, ensuring that your customers always have a seamless booking experience.
2. Advanced Scheduling and Appointment Management
Booklux enables businesses to create and manage work schedules, shifts, and appointments with ease. The platform also provides real-time notifications when customers book or cancel appointments, helping businesses stay up-to-date with their schedules and reduce costly no-shows.
3. Customizable and Multilingual
Booklux allows businesses to customize and translate their booking content into any language, making it suitable for international markets. The platform also comes professionally translated in over 25 languages, ensuring that customers from different backgrounds can easily use the system.
Additional Booking Features of Booklux
In addition to the key features, Booklux offers numerous other functionalities that make it the best car service booking software in 2023:
Freedom to create individual user accounts for employees to manage and prepare their bookings
Add unlimited number of locations, resources, employees, services, bookings, clients, and user accounts
Enjoy complete personalization of your booking calendar
Super quick and easy setup
Easily add a booking view or button to any website
Share your unique Booklux booking page on social media platforms
Works great on all devices - Web, Android, and Apple devices
Accept digital payments securely from all devices and common payment methods
Timely reminders and thank-you notes to build customer loyalty
Collect customer feedback to improve your services and gain a competitive edge
Improved Efficiency and Time Management
Booklux automates the booking process, making it easier for businesses to manage their schedules and appointments. This leads to better time management and increased efficiency, allowing businesses to focus on providing quality services to their customers.
Enhanced Customer Experience
With Booklux, customers can easily book, reschedule, or cancel appointments without any hassle. The platform also offers timely reminders and personalized messages, ensuring that your clients have a positive experience with your business.
Scalability and Flexibility
Booklux can adapt to the needs of businesses of all sizes, making it an ideal solution for small businesses and large enterprises alike. The platform offers a wide range of features and customization options, allowing businesses to scale and grow as their requirements change.
Why Choose Booklux as Your Car Service Booking Software?
There are several reasons why businesses should opt for Booklux as their car service booking software:
Comprehensive and robust booking system
Advanced scheduling and appointment management
Customizable and multilingual interface
Improved efficiency and time management
Enhanced customer experience
Scalability and flexibility
Booklux empowers businesses to efficiently manage their schedules and provide top-notch services to their customers.
Frequently Asked Questions (FAQ)
Is Booklux suitable for small businesses?

Yes, Booklux is an ideal booking software solution for small businesses as it offers a wide range of features and customization options that can adapt to the needs of businesses of all sizes.

How much does Booklux cost?

Booklux offers a 21-day free trial, after which you can choose a suitable pricing plan based on your business requirements.

Can Booklux be integrated with my existing website?

Yes, Booklux can be easily integrated into your existing website. You can add a booking view or button to any website, making it easier for your customers to book appointments directly from your website.

Is Booklux available in multiple languages?

Yes, Booklux is available in over 25 professionally translated languages. Moreover, you can customize and translate your booking content into any language to cater to an international audience.

Does Booklux support online payments?

Yes, Booklux supports secure online payments from all devices and common payment methods, making it convenient for your customers to pay for their appointments.

Can I collect customer feedback with Booklux?

Yes, Booklux allows you to collect customer feedback after their appointments. This valuable information can help you improve your services, attract new customers, and enhance customer loyalty.
In conclusion
In conclusion, Booklux is a comprehensive and robust car service booking software that can cater to the needs of businesses of all sizes. Its advanced scheduling and appointment management features, customizable and multilingual interface, and focus on enhancing customer experience make it the ideal choice for car service providers looking for an efficient and scalable booking solution.
To learn more about Booklux and to see how it can help your business thrive, visit the following link: https://www.booklux.com/en/car-service-booking-system
Get Started with Booklux Today!
Try 21 days for free. Cancel anytime.
Start free trial
Copyright © 2011-2023 Booklux OÜ. All rights reserved.