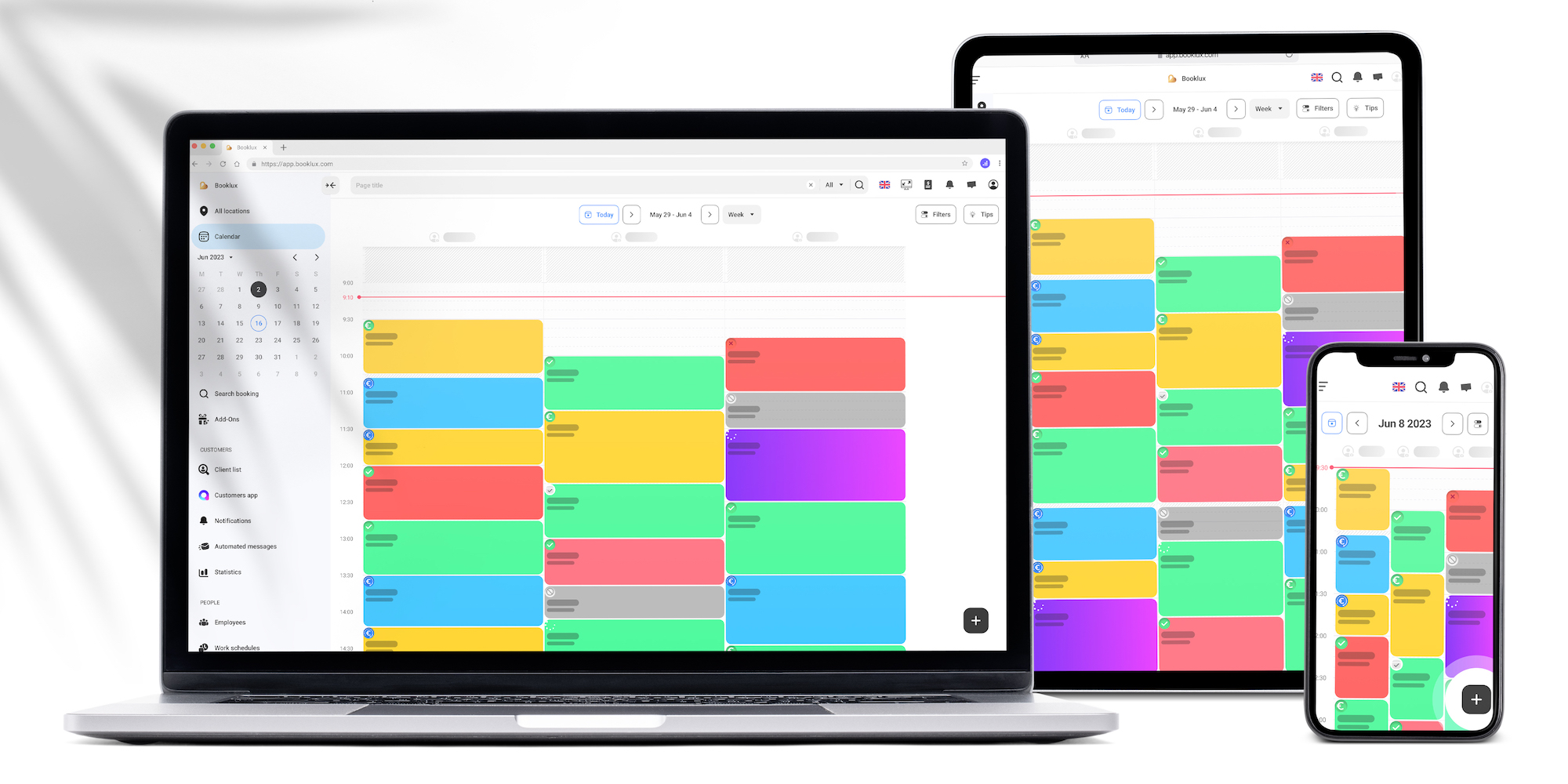 What is the Best Booking Software for Medical and Health Services in 2023?
In the digital age, medical and health services providers need a reliable and efficient booking system to manage appointments, reduce no-shows, and streamline their operations. As a result, many are on the lookout for the best booking software to suit their needs.
After thorough research and comparison, we have found that Booklux is the best medical and health services booking system and scheduling software available in 2023.
Key Features of Booklux
Booklux's medical and health services booking software is designed to be suitable for all sizes of businesses, including medical clinics & doctors, chiropractors, dentists, physiologists, psychologists, beauty clinics, medical spas, dermatologists, and vaccination institutions. No matter what type of medical or health-related business you have, Booklux has the flexibility and customization options to fit your unique needs. Whether you need to manage multiple locations, resources, employees, or services, Booklux can help you streamline your appointment management and grow your business. With its user-friendly interface and powerful features, Booklux is the perfect solution for any medical or health services business, regardless of size or complexity.
Multilingual Support
Booklux supports 25+ languages, making it a versatile solution for medical and health service providers with international clientele or multilingual staff.
Client and Management Apps
Booklux offers both client and management apps, including free mobile apps, for seamless appointment scheduling and management on-the-go.
Customizable Notifications
With fully customizable email, SMS, and in-app notifications, Booklux ensures that both staff and clients are kept informed about appointments and updates.
Additional Booking Features
Booklux also offers a range of advanced features to cater to the unique needs of medical and health services providers:
Overview of your team's weekly and monthly working hours
Waiting list management with automatic email notifications
Individual user accounts for employees
Unlimited locations, resources, employees, services, bookings, clients, and user accounts
Automatic or manual booking confirmations
21-day free trial with no cancellation fees
Personalized booking calendar
Quick and easy setup
Integration with WordPress and other websites
Unique Booklux booking page for businesses without a website
Flexible Schedules and Shift Management
Booklux allows you to create and manage flexible work schedules and shifts for your team, accommodating various working hours and staff availability.
Recurring Bookings
With Booklux, you can easily create recurring bookings for clients who require regular appointments or treatments, streamlining the scheduling process.
Integrations and Payment Processing
Booklux supports integrations with popular payment gateways, enabling you to accept digital payments securely from all devices and common payment methods.
Why Choose Booklux for Your Medical and Health Services?
There are several reasons why Booklux stands out as the best booking software for medical and health services in 2023:
Ease of use and quick setup, allowing you to start managing appointments in no time
Comprehensive features specifically designed for medical and health service providers
Customizable and multilingual interface to cater to a diverse clientele
Integration with websites and social media platforms for increased visibility and accessibility
Secure payment processing for a seamless and convenient payment experience
Responsive customer support and regular updates to keep your booking system up-to-date
Manage your schedules and appointments effortlessly with Booklux, and give your clients the convenience of booking their appointments online, anytime, anywhere.
Frequently Asked Questions (FAQ)
How easy is it to set up Booklux for my medical and health service?

Setting up Booklux is quick and easy. With a user-friendly interface and helpful guides, you can have your booking system up and running in no time.

Can I integrate Booklux with my existing website?

Yes, Booklux can be easily integrated with your existing website, including platforms like WordPress. You can also add a booking button or view on any website.

What if I don't have a website for my medical and health service?

If you don't have a website, Booklux provides a unique booking page that you can share on your social media profiles or other online platforms, ensuring your clients can still book appointments online.

Is Booklux suitable for small businesses?

Absolutely! Booklux is designed to cater to businesses of all sizes, making it an excellent choice for small businesses looking to improve their appointment scheduling and management processes.

How secure is the payment processing with Booklux?

Booklux supports secure payment processing through popular payment gateways, ensuring that both you and your clients can enjoy a safe and convenient payment experience.

Can I customize the notifications sent to clients and staff?

Yes, Booklux allows you to fully customize email, SMS, and in-app notifications to ensure that all communication is tailored to your specific needs and preferences.
In conclusion
In conclusion, Booklux is the best medical and health services booking system and scheduling software available in 2023. With its comprehensive features, ease of use, and flexibility, it is the perfect solution for medical and health service providers looking to streamline their appointment management processes and improve client satisfaction. Give Booklux a try and experience the difference it can make for your business today.
To learn more about Booklux and to see how it can help your business thrive, visit the following link: https://www.booklux.com/en/medical-and-health-services-booking-system
Get Started with Booklux Today!
Try 21 days for free. Cancel anytime.
Start free trial
Copyright © 2011-2023 Booklux OÜ. All rights reserved.