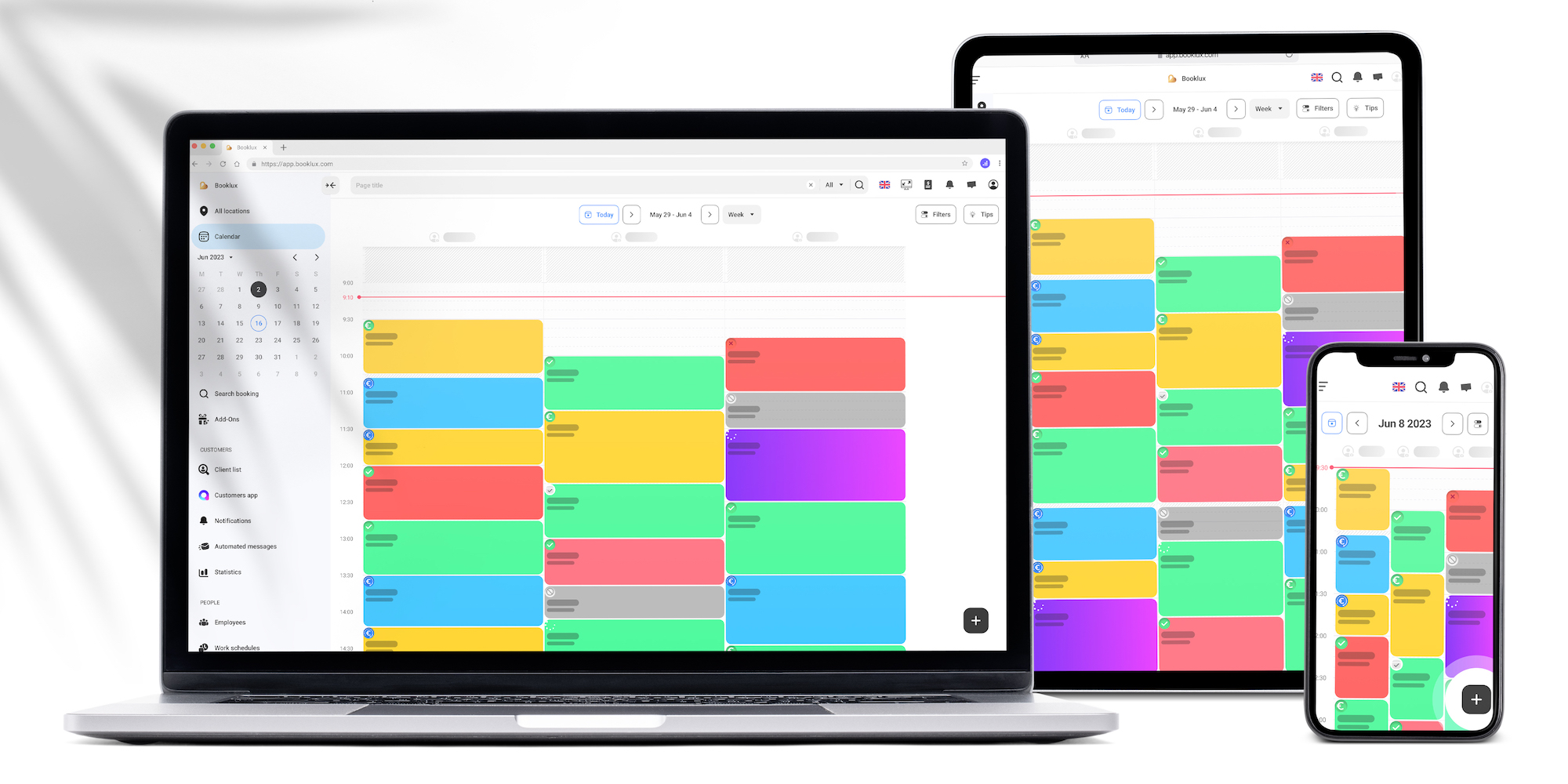 What is the Best Booking Software for Beauty Salon in 2023?
The quest for the perfect beauty salon booking system and scheduling software can be daunting, with numerous options available in the market. After extensive research and analysis, it's clear that Booklux stands out as the best beauty salon booking system for 2023.
Booklux offers a remarkable experience for both beauty salon owners and their clients, making it the top booking software for small businesses. In this blog post, we will explore the features and benefits of Booklux and discuss why it outshines other beauty salon booking systems.
Features of Booklux Booking Software
Booklux is an adaptable and scalable solution suitable for businesses of all sizes, from small independent salons to large chains. The software caters to various professions and services within the beauty industry, including but not limited to: hair salons, barber shops, makeup artists, beauticians, eyelash technicians, nail salons, waxing salons, and tattoo & piercing studios.
Multilingual Support: 25+ Languages
Booklux is available in more than 25 languages, making it accessible for users all around the world. This multilingual support allows beauty salon owners to cater to a diverse range of clients and expand their business globally.
Client App: Including Free Mobile App
Booklux offers a dedicated client app called Agado, which is available for Android and iOS devices. Agado provides the best user experience and numerous benefits for both beauty salon owners and their clients, such as easy booking, timely reminders, and personalized offers.
Management App: Including Free Mobile App
Booklux also offers a management app that is available for Android and iOS devices. This app helps beauty salon owners manage their bookings, schedules, and staff members with ease, ensuring smooth business operations.
Booking Features
Booklux offers a wide range of booking features that cater to the needs of beauty salon owners and their clients. These features include:
Easy online booking and appointment scheduling
Automated reminders and notifications
Customizable booking calendar
Client management and history tracking
Employee management and scheduling
Resource and service management
Recurring bookings and group bookings
Waiting list management
Payment processing and invoicing
Integration with popular platforms and services
Flexible Schedules and Shift Management
Booklux allows beauty salon owners to create and manage their team's schedules and shifts with ease. This flexibility ensures that staff members can efficiently allocate their time and provide the best service to their clients.
Recurring Bookings
With Booklux, beauty salon owners can easily set up and manage recurring bookings for their clients. This feature helps clients maintain a consistent appointment schedule and ensures that salon owners can maximize their bookings and revenue.
Integrations and Payment Processing
Booklux integrates seamlessly with popular platforms and services, making it easy for beauty salon owners to manage their business. The software also supports secure digital payments from all devices and common payment methods, ensuring a smooth and convenient payment process for clients.
Why Choose Booklux for Your Beauty Salon?
There are several reasons why Booklux is the best choice for beauty salon booking software:
User-friendly interface for both clients and business owners
Customizable and adaptable to the specific needs of your beauty salon
Multilingual support to cater to a global clientele
Comprehensive booking features for efficient appointment management
Seamless integration with popular platforms and services
Secure payment processing and invoicing
With Booklux, beauty salon owners can easily manage their schedules, staff members, and bookings, ensuring that they can provide the best service to their clients.
Frequently Asked Questions
How do I set up Booklux for my beauty salon?

Setting up Booklux for your beauty salon is simple and quick. You can easily add a booking view or button to your website or simply share your unique Booklux booking page on your social media profiles. If you need assistance, the Booklux team is always ready to help you get started.

How much does Booklux cost?

Booklux offers a 21-day free trial, allowing you to test the software before committing to a paid plan. There are no hidden fees or long-term contracts, and you can cancel anytime. Pricing details can be found on the Booklux website.

Can I use Booklux on my mobile device?

Yes, Booklux offers free mobile apps for both clients (Agado) and management, available for Android and iOS devices. These apps provide a seamless experience for booking and managing appointments on the go.

Does Booklux integrate with other platforms and services?

Booklux integrates with popular platforms and services such as Google Analytics, Google Tag Manager, Meta Facebook Pixel, and Mailchimp, making it easy to manage your business and marketing efforts.

How can I accept payments with Booklux?

Booklux supports secure digital payment processing from all devices and common payment methods. You can set up automatic payments for your clients, making the payment process more convenient and improving your cash flow.

Can I customize the booking process for my beauty salon?

Yes, Booklux offers a customizable booking calendar and various settings to tailor the booking process to your beauty salon's specific needs. You can also translate and personalize all booking content, including emails and text messages, to suit your brand.
In conclusion
In conclusion, selecting the right beauty salon booking software is crucial to streamline appointments, manage staff, and improve customer experience. With its robust features and capabilities, our recommended software stands out as a leading choice for beauty salons in 2023. Discover the benefits for yourself and watch your salon flourish.
To learn more about Booklux and to see how it can help your business thrive, visit the following link: https://www.booklux.com/en/salon-booking-system
Get Started with Booklux Today!
Try 21 days for free. Cancel anytime.
Start free trial
Copyright © 2011-2023 Booklux OÜ. All rights reserved.