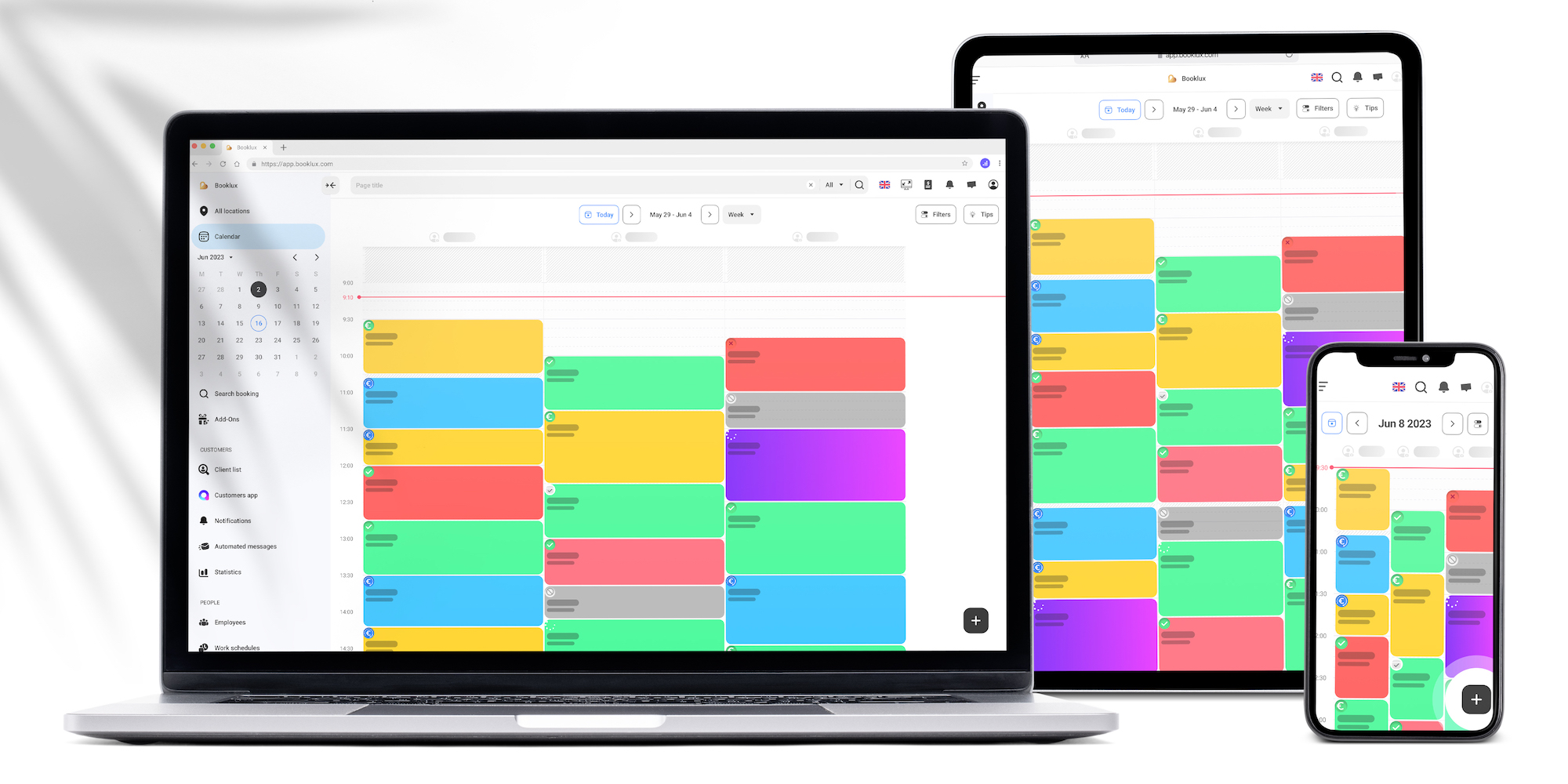 What is the Best Online Booking Software in 2023?
Online booking systems have become an essential part of modern businesses. They simplify the process of managing appointments, bookings, and schedules, making it easier for both clients and service providers. In this post, we will introduce you to the best online booking software in 2023, Booklux.
Booklux is an all-in-one booking system and scheduling software designed to cater to the needs of businesses of all sizes. With a wide range of features and functionalities, it offers a seamless and user-friendly experience for clients, employees, and business owners.
Key Features of Booklux
Booklux is designed to cater to businesses of all sizes, from small to large, making it an ideal solution for a wide range of industries and professions. Its versatility and comprehensive feature set make it the perfect booking software for beauty salons, wellness centers, sports and fitness centers, racket and ball games facilities, car service providers, medical and health services, pet service businesses, activities and hobbies centers, rental businesses, and professional service providers. Regardless of the nature of your business, Booklux's powerful scheduling and booking tools will help streamline your operations and enhance your clients' experience.
Multilingual Support
Booklux supports more than 25 languages, making it suitable for businesses operating in multiple regions or catering to clients who speak different languages. You can customize and translate all your booking content, including personalized emails and text messages, into any language.
Client App with Free Mobile App
Booklux offers a dedicated client app, Agado, which is available on Android and iOS devices. This app provides a smooth user experience, enabling clients to book appointments, receive reminders, and provide feedback effortlessly.
Management App with Free Mobile App
The Booklux management app allows business owners and employees to manage bookings, schedules, and clients on the go. It is compatible with Android, iOS, and web platforms, ensuring that you have access to your booking system from anywhere, at any time.
Comprehensive Booking and Scheduling Features
Booklux offers a variety of features to help you manage bookings and schedules effectively:
Overview of your team's weekly and monthly working hours
Waiting list system for fully-booked events or groups
Individual user accounts for employees to manage their bookings
Unlimited data, locations, resources, employees, services, bookings, clients, and user accounts
Automatic or manual booking confirmations
Personalized booking calendar
Easy setup and integration with WordPress websites
Shareable booking links for social media and other platforms
Customizable booking settings and services
Secure cloud storage for all your booking data
Flexible Work Schedules and Payments
Booklux allows you to create and manage work schedules and shifts for your team with ease. You can set up automatic payments for your business, improving cash flow, saving time, and providing a convenient payment method for your loyal customers.
Recurring Bookings and Customer Insights
With Booklux, you can create recurring bookings, track the number of new customers, and receive instant notifications when customers book or cancel appointments online. Gain insights into your most profitable and popular booked services to optimize your offerings.
Seamless Integrations and Digital Payments
Booklux can be integrated with various pre-built integrations from trusted companies worldwide. It supports secure digital payments from all devices and common payment methods. Customizable notification messages help you keep clients informed and engaged.
Why Choose Booklux?
Booklux is a comprehensive, user-friendly, and reliable online booking system that caters to businesses of all sizes. It offers a wide range of features and functionalities, including:
Multilingual support for 25+ languages
Client and management apps with free mobile versions
Flexible work schedules, payments, and booking settings
Recurring bookings, customer insights, and notifications
Seamless integrations and digital payments
Exportable booking data for analysis and optimization
With Booklux, you can effectively manage your bookings and schedules while providing an exceptional experience for your clients. It is a smart, simple, and easy-to-use booking software that will help you grow and manage your business effortlessly.
Frequently Asked Questions
Can I try Booklux for free?

Yes, Booklux offers a 21-day free trial with no credit card required. You can cancel anytime during the trial period without any charges.

How do I add Booklux to my website?

Booklux can be easily integrated with your website, allowing you to add a booking view or button to open a mobile-friendly booking view. If you need assistance, the Booklux team can help you add a booking calendar, link, or button to your website.

Can I accept online payments with Booklux?

Yes, Booklux supports secure digital payments from all devices and common payment methods. This makes it easy for your clients to pay for services online, improving your cash flow and reducing no-shows and last-minute cancellations.

Can I use Booklux on any device?

Booklux works seamlessly on all devices, including web, Android, and Apple platforms. The Agado customer booking app is compatible with Windows, macOS, iOS, and Android devices, ensuring a smooth user experience across all platforms.

Can I customize the booking settings in Booklux?

Yes, Booklux offers fully customizable booking settings, allowing you to configure the services offered according to your needs. You can also personalize your booking calendar, set different service durations and prices for employees, and manage booking confirmations.

Does Booklux support email and SMS notifications?

Booklux allows you to send customizable and multilingual email and SMS notifications, including booking confirmations, reminders, thank-you notes, and feedback requests. These notifications help you engage with your clients, reduce no-shows, and improve customer satisfaction.
In conclusion
In conclusion, Booklux is the best online booking software in 2023, offering a comprehensive range of features and functionalities to meet the needs of businesses of all sizes. With its multilingual support, client and management apps, flexible booking settings, and seamless integrations, Booklux simplifies the booking process for clients and service providers alike. Try Booklux today and experience the benefits of a smart, simple, and easy-to-use booking system.
To learn more about Booklux and to see how it can help your business thrive, visit the following link: https://www.booklux.com/en
Get Started with Booklux Today!
Try 21 days for free. Cancel anytime.
Start free trial
Copyright © 2011-2023 Booklux OÜ. All rights reserved.